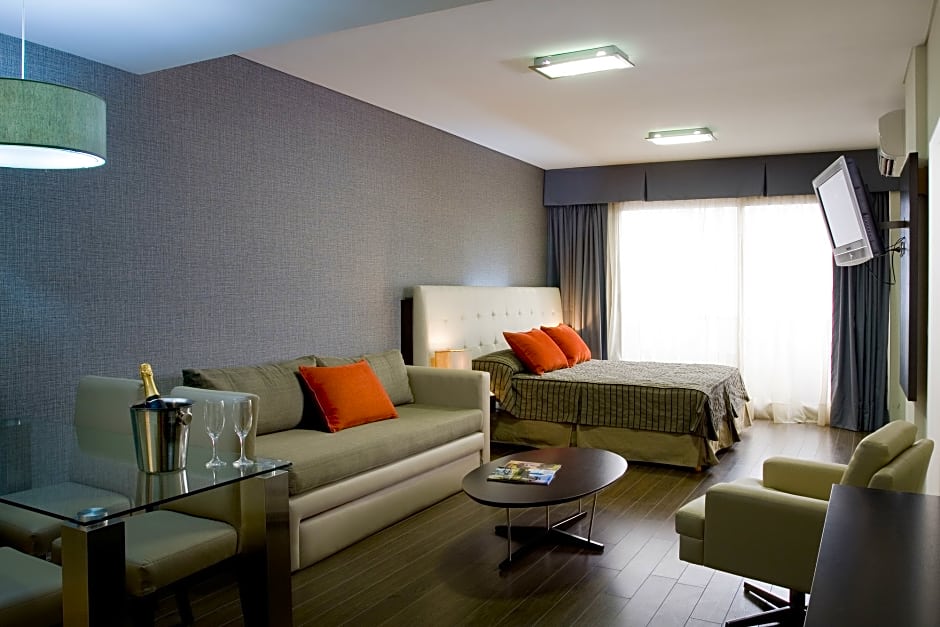 友だちにメールで教えよう!
このサイトが役に立つと思ったら… 友達にもシェアしよう!
下のフォームに記入して簡単にメール送信しましょう。
弊社ではメールアドレスを保存したり、お客さまにもお友だちにも望まれないメー
ルを送ったりすることはありませんので、どうかご安心ください。
Ayers de Recoleta Plaza is a 4-star hotel ideally located in the city's charming Recoleta district, near a number of attractions including the National Museum of Fine Arts (MNBA), Plaza de Mayo, Casa Rosada and Teatro Colon.

Each guestroom of this luxury hotel is non-smoking, en suite and well equipped with a list of comforts such as air conditioning, cable-TV, telephone, refrigerator and microwave.

In addition, Ayers de Recoleta's Plaza features an array of recreational amenities and hotel services such as complimentary high-speed WiFi access, outdoor swimming pool, fitness centre, sauna and spa tub as well as a BBQ area and the Lola restaurant, which serves a tasty breakfast buffet each day from 7am to 11am.
予約する方法
Ayres De Recoleta Plazaで予約するのが簡単で安全でございます。ご希望の日付を選択します。そして、フォームを送信するために「料金を確認し」というボタンをクリックします。 客室タイプと料金はお宅の画面に戻った後で、画面の中央にある部屋の情報を読むと画面の右側にある「予約する」というボタンをクリックすることによって希望の料金を選択することができます。希望の客室タイプを選択した後で、「ご予約を完了」というフォームに転送されます。その時に「滞在の詳細」を確認して、「ゲストの詳細」という部分の空欄でご自分の詳細のことを書きます。ご自分の名前とメールアドレスが正しく入力されていることを確認してください。 すべての重要な情報を記入した後で、「ご予約を完了」というボタンをクリックしてください。ご自分のセキュリティを確保するために、私たちがクレジットカード番号を暗号化し、非使用可能な形式にエンコードする安全なコマースサーバーを使います。
地域情報
空港

Buenos Aires, Argentina (AEP-Aeroparque Jorge Newbery) - 2.66 mi
Buenos Aires, Argentina (EZE-Ministro Pistarini Intl.) - 17.61 mi
La Plata, Argentina (LPG) - 38.22 mi

ミュージアム

Museo Participativo de Ciencias - 556 f
Museo Nacional de Bellas Artes - 0.29 mi
Rubbers Gallery - 0.34 mi
Art Museum - 0.36 mi
Santa Fe Galleries - 0.49 mi
Zubaran Gallery - 0.52 mi
Carlos Gardel Museum - 0.61 mi
Museo de Arte Hispanoamericano Isaac Fernandez Blanco - 0.68 mi
Museo Nacional De Arte Decorativo - 0.73 mi
Museum of Latin American Art of Buenos Aires MALBA - 1.04 mi
Ruth Benzacar Gallery - 1.06 mi
Museum of Modern Art of Latin America - 1.07 mi